Quick Search
Innovating Science® -

Thin Layer Chromatography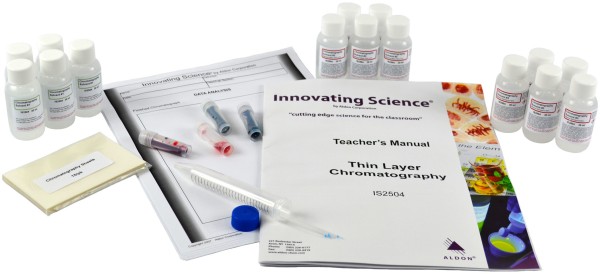 Product # IS2504
Commercial food colors may contain more than meets the eye. Students will perform thin layer chromatography, a highly effective separation procedure, on four different food colors to determine if there may be more in each color than visual appearance would lead them to believe. Each group will perform the chromatography procedure in one of three different solvents and compare their results to other student groups, allowing students to reach conclusions regarding the solubility of each food dye in different solvents. The kit contains enough materials for 15 groups. Teacher's Manual and Student Study Guide copymasters are included.

Aligned to the Next Generation Science Standards (NGSS)*

Disciplinary Core Ideas: PS1.A; PS1.B
Performance Expectations: MS-PS1-2; HS-PS1-3
Cross Cutting Concepts: Patterns
Engineering Practices: Analyzing and Interpreting Data; Planning and Carrying Out Investigations

Kit Includes:
1 Food coloring sample set containing:
1 x 0.5mL Yellow
1 x 0.5mL Red
1 x 0.5mL Blue
1 x 0.5mL Green
5 x 30mL Chromatography Solvent #1 (Deionized water)
5 x 30mL Chromatography Solvent #2 (50% Ethanol)
5 x 30mL Chromatography Solvent #3 (95% Ethanol)
15 TLC (Thin Layer Chromatography) Sheets
4 Capillary Pipettes

DOT Info:
Small quantity exemption 173.4
THIS PACKAGE CONFORMS TO 49 CFR 173.4 for domestic highway or rail transport only

*"Next Generation Science Standards" is a registered trademark of Achieve. Neither Achieve nor the lead states and partners that developed the Next Generation Science Standards was involved in the production of, and does not endorse, this product.


WARNING: This product can expose you to chemicals including Methanol/Methyl isobutyl ketone, which is known to the State of California to cause cancer and reproductive harm. For more information go to http://www.P65Warnings.ca.gov.
Safety Data Sheet
---
Contact Aldon - Innovating Science®