Quick Search
Innovating Science® -

Thin Layer Chromatography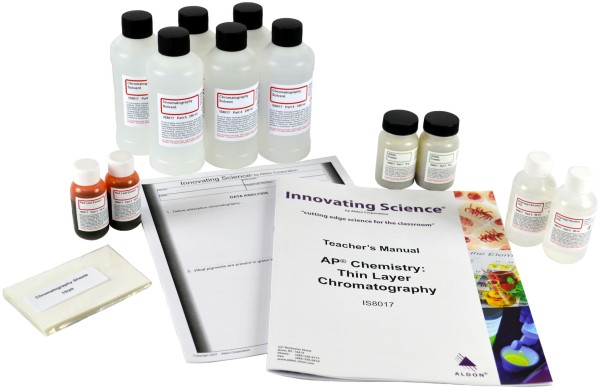 Product # IS8017
Chromatography is an analytical tool used to separate similar compounds. Thin-layer chromatography utilizes a sheet coated with silica gel. The samples are applied to the silica gel sheet and separated by migrating an appropriate solvent up the sheet. This type of separation is called adsorption chromatography because the separation of similar compounds is based on the selective adsorption of the compounds on the silica gel solid phase.
In this lab samples of various plant leaf materials may be extracted or the red and green leaf extracts included may be used. The samples of extracted leaf pigments are applied to a silica gel sheet and separated using a mixture of organic solvents.
Kit Includes:
2 x 10g Alfalfa Powder
2 x 25mL Red Extract
1 pkg of 15 Chromatography TLC Sheets
6 x 250mL Chromatographic Solvent
2 x 50mL Isopropyl Alcohol, 70%
DOT Info:
UN1230, Methanol, 3, II, Ltd Qty
UN1219, Isopropanol, 3, II, Ltd Qty
WARNING: This product can expose you to chemicals including Methanol, which is known to the State of California to cause reproductive harm. For more information go to http://www.P65Warnings.ca.gov.
Safety Data Sheet
---
Contact Aldon - Innovating Science®