Quick Search
Innovating Science® -

The Ideal Gas Law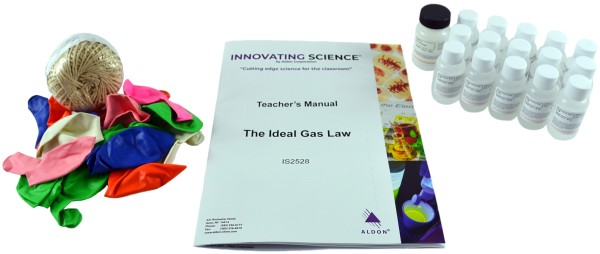 Product # IS2528


Explore the gas laws through the reaction of sodium bicarbonate and hydrochloric acid. Students will perform the reaction and use the ideal gas law to calculate the amount of carbon dioxide produced. They will then use stoichiometry to determine their percent yield. Kit contains enough materials for 15 groups of students. Teacher's Manual and Student Study Guide Copymasters are included.

Aligned to the Next Generation Science Standards (NGSS)*

Disciplinary Core Ideas: PS1.A; PS1.B
Performance Expectations: MS-PS1-2; MS-PS1-4
Cross Cutting Concepts: Patterns; Cause and Effect
Engineering Practices: Analyzing and Interpreting Data; Developing and Using Models

Kit Includes:
1 x 40g Sodium bicarbonate
15 x 25mL Hydrochloric acid, 1M
1 pkg String
15 Balloons

WARNING: CHOKING HAZARD
Children under 8 yrs. can choke or suffocate on uninflated or broken balloons. Adult supervision required. Keep uninflated balloons from children. Discard broken balloons at once.

DOT Info:
Small quantity exemption 173.4
THIS PACKAGE CONFORMS TO 49 CFR 173.4 for domestic highway or rail transport only

*"Next Generation Science Standards" is a registered trademark of Achieve. Neither Achieve nor the lead states and partners that developed the Next Generation Science Standards was involved in the production of, and does not endorse, this product.


Innovating Science® products are For Laboratory Use Only
Safety Data Sheet
---
Contact Aldon - Innovating Science®