Quick Search
Innovating Science® -

Properties of Antacids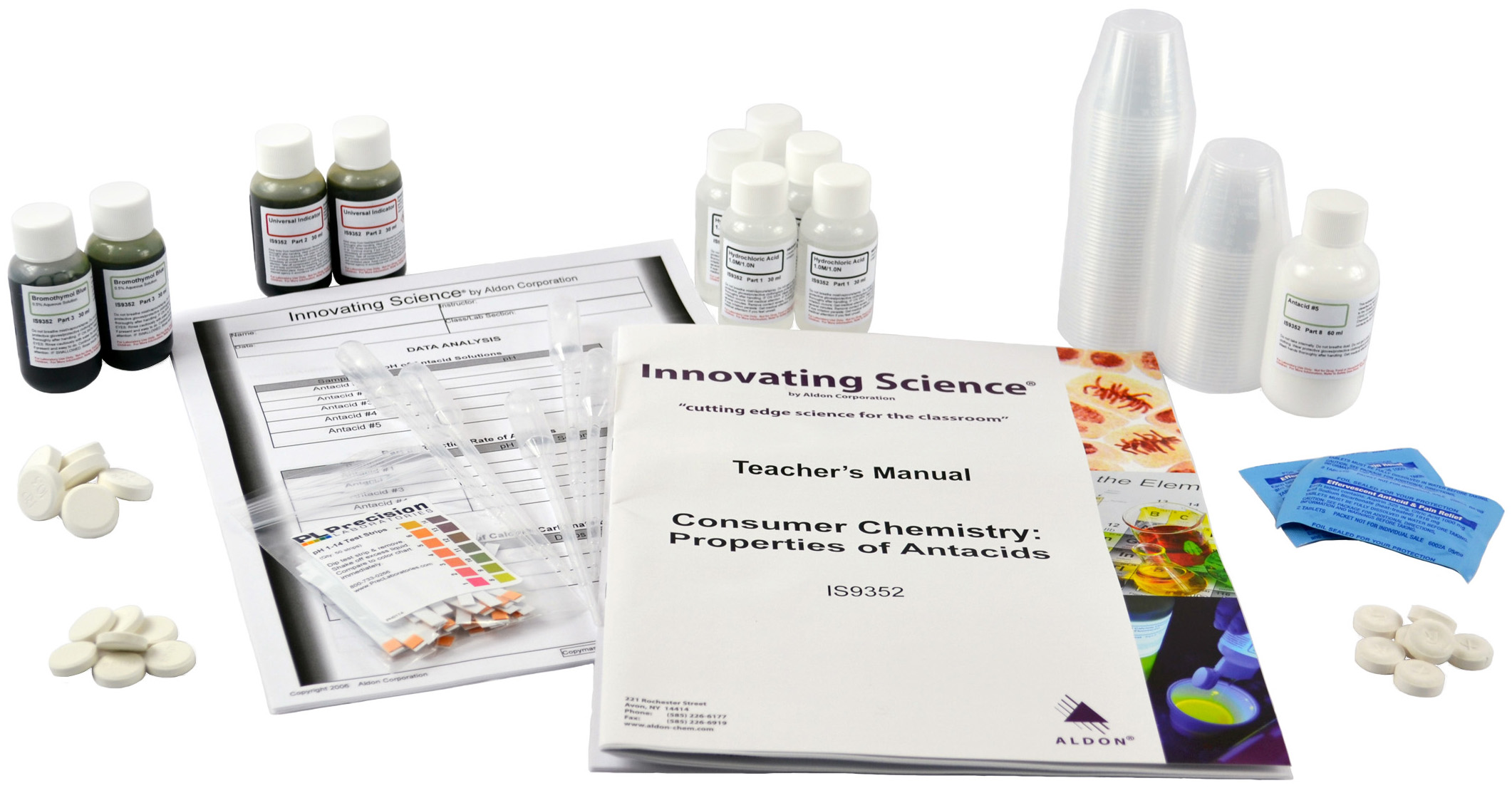 Product # IS9352
With the global population spending over a half a billion dollars a year on commercial antacids, several companies are out there competing for a part of the business. In this activity, students will learn about some of the more common active components in over-the-counter antacids as well as investigate the rate of acid neutralization of five different antacids. Students will also compare the buffering ability of three different calcium carbonate based antacids. All antacid samples are included and the kit contains enough materials for 15 groups. Teacher's Manual and Student Study Guide copymasters are included.
Aligned to the Next Generation Science Standards (NGSS)* Disciplinary Core Ideas:
PS1.A; PS1.B; LS1.A
Performance Expectations:
MS-LS1-7; HS-PS1-2; HS-PS1-5; HS-PS1-6; HS-LS1-2
Cross Cutting Concepts:
Patterns; Stability and Change; Systems and System Models; Energy and Matter
Engineering Practices:
Developing and Using Models
Kit Includes:
5 x 30mL Hydrochloric Acid, 1M Solution
2 x 30mL Universal Indicator
2 x 30mL Bromothymol Blue, 0.5% Aqueous Solution
1 x 60mL Antacid #5, Liquid
1 Pkg/7 Antacid #1, Tablet
1 Pkg/7 Antacid #2, Extra Strength
1 Pkg/7 Antacid #3, Tablet
2 Pkg/2 Antacid #4, Tablets
1 Pkg/15 Graduated Plastic Pipettes
2 Pkg/50 Universal Indicator Strips
90 Disposable Medicine Cups
DOT Info:
Small quantity exemption 173.4
THIS PACKAGE CONFORMS TO 49 CFR 173.4 for domestic highway or rail transport only
*"Next Generation Science Standards" is a registered trademark of Achieve. Neither Achieve nor the lead states and partners that developed the Next Generation Science Standards was involved in the production of, and does not endorse, this product.
WARNING: This product can expose you to chemicals including Acetyl Salicylic acid/Aspirin and Phenolphthalein/Methanol/Methyl isobutyl ketone, which are known to the State of California to cause cancer and reproductive harm. For more information go to http://www.P65Warnings.ca.gov.
Safety Data Sheet
---
Contact Aldon - Innovating Science®