Quick Search
Innovating Science® -

Molarity Lab Investigation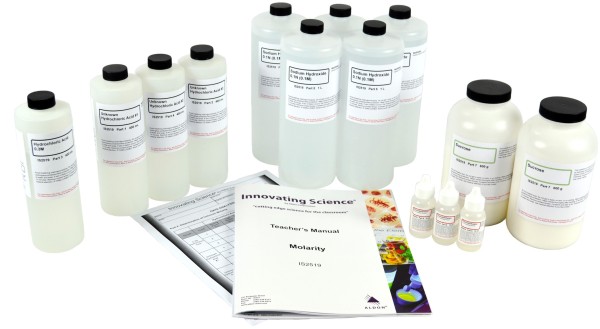 Product # IS2519
The experiments in this kit have been designed to introduce students to the concept of molarity. Students will first try to make a solution with a specific molarity demonstrating the importance of good laboratory technique. In the second set of experiments students will perform a titration on a known acid solution before using the concepts they have learned to identify the concentrations in three unknown solutions. This kit has enough materials for 15 groups. Teacher's Manual and Student Study Guide copymasters included.

Aligned to the Next Generation Science Standards (NGSS)*

Disciplinary Core Ideas: PS1.A
Performance Expectations: MS-PS1-1; HS-PS1-2
Cross Cutting Concepts: Scale, Proportion and Quantity; Patterns
Engineering Practices: Developing and Using Models

Kit Includes:
1 x 400mL Hydrochloric Acid, 0.3M
3 x 15mL Phenolphthalein Solution
5 x 1L Sodium Hydroxide, 0.1M
2 x 600g Sucrose
1 x 400mL Unknown Hydrochloric Acid #1
1 x 400mL Unknown Hydrochloric Acid #2
1 x 400mL Unknown Hydrochloric Acid #3

DOT Info:
UN1789, Hydrochloric acid, 8, III, Ltd Qty
UN1219, Isopropanol solution, 3, II, Ltd Qty

*"Next Generation Science Standards" is a registered trademark of Achieve. Neither Achieve nor the lead states and partners that developed the Next Generation Science Standards was involved in the production of, and does not endorse, this product.


WARNING: This product can expose you to chemicals including Phenolphthalein, which is known to the State of California to cause cancer. For more information go to http://www.P65Warnings.ca.gov.
Safety Data Sheet
---
Contact Aldon - Innovating Science®