Quick Search
Innovating Science® -

Healthy Plants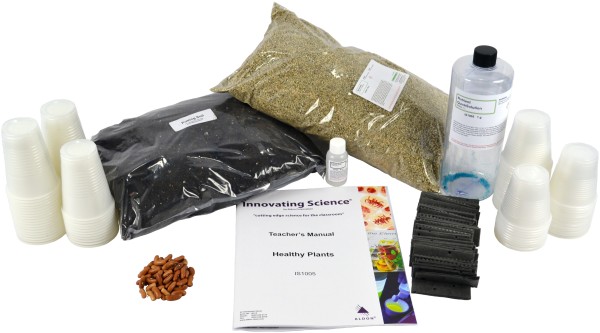 Product # IS1005
Designed for older elementary students to help them examine and understand the needs of plants for growth and survival. For the sake of time, the class can be split in thirds, with some students conducting a light/dark experiment, some studying plant nutritional needs, and some studying effects of acid rain. Results will be shared at the end. This kit contains materials for 15 groups of two.
Aligned to the Next Generation Science Standards (NGSS)*Disciplinary Core Ideas:
LS1.C; LS2.A; LS1.A; LS2.B; ETS1.B
Performance Expectations:
K-LS1-1; 2-LS2-1; 4-LS1-1; 5-LS2-1; 3-5-ETS1-3
Cross Cutting Concepts:
Patterns; Cause and Effect; Systems and System Models
Kit Includes:
30mL Sulfuric Acid 0.02M Solution
1 bag Soil
500g Vermiculite
Nutrient Powder
45 Plastic cups, 5oz
45 Plastic cups, 7oz
45 Absorbent Wick Pads
Bean seeds
Developed for grades 3 - 5
WARNING CHOKING HAZARD
Small parts. Not for children under 3 yrs.
DOT Info:
Small quantity exemption 173.4
THIS PACKAGE CONFORMS TO 49 CFR 173.4 for domestic highway or rail transport only
*"Next Generation Science Standards" is a registered trademark of Achieve. Neither Achieve nor the lead states and partners that developed the Next Generation Science Standards was involved in the production of, and does not endorse, this product.
WARNING:
This product can expose you to chemicals including Strong inorganic acid mists containing sulfuric acid, which are known to the State of California to cause cancer. For more information go to http://www.P65Warnings.ca.gov.
Safety Data Sheet
---
Contact Aldon - Innovating Science®