Quick Search
Innovating Science® -

Equilibrium and Le Chatelier's Principle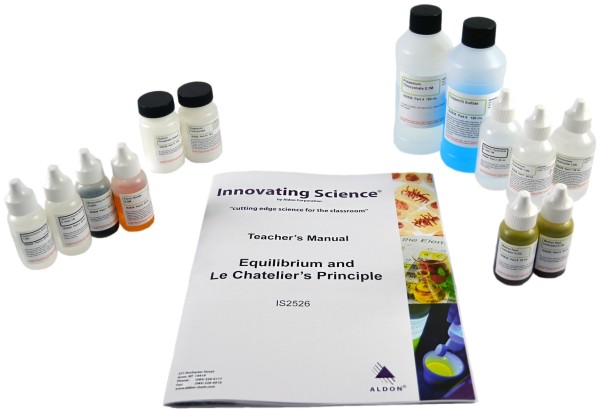 Product # IS2526
Students will investigate equilibrium and Le Chatelier's principle through four different experiments. They will apply various stresses to different chemical systems at equilibrium, then use their understanding of Le Chatelier's principle to explain their results. Kit contains enough material for 15 groups. Teacher's Guide and Student Study Guide Copymasters are included.
Aligned to the Next Generation Science Standards (NGSS)*Disciplinary Core Ideas:
PS1.B
Performance Expectations:
MS-PS1-2; HS-PS1-6
Cross Cutting Concepts:
Patterns; Stability and Change
Engineering Practices:
Analyzing and Interpreting Data; Constructing Explanations and Designing Solutions
Kit Includes:
25mL Bromothymol blue
50mL Sodium hydroxide, 0.1M
25mL Hydrochloric acid, 0.1M
150mL Potassium thiocyanate solution
25mL Ferric nitrate solution
15g Potassium thiocyanate crystals
15g Sodium phosphate crystals
150mL Copper (II) sulfate solution
100mL Ammonium hydroxide, 1M
25mL Hydrochloric acid, 1M
50mL Methyl red
DOT Info:
Small quantity exemption 173.4
THIS PACKAGE CONFORMS TO 49 CFR 173.4 for domestic highway or rail transport only
*"Next Generation Science Standards" is a registered trademark of Achieve. Neither Achieve nor the lead states and partners that developed the Next Generation Science Standards was involved in the production of, and does not endorse, this product.
Innovating Science® products are For Laboratory Use Only
Safety Data Sheet
---
Contact Aldon - Innovating Science®