Quick Search
Innovating Science® -

Environmental Testing Kit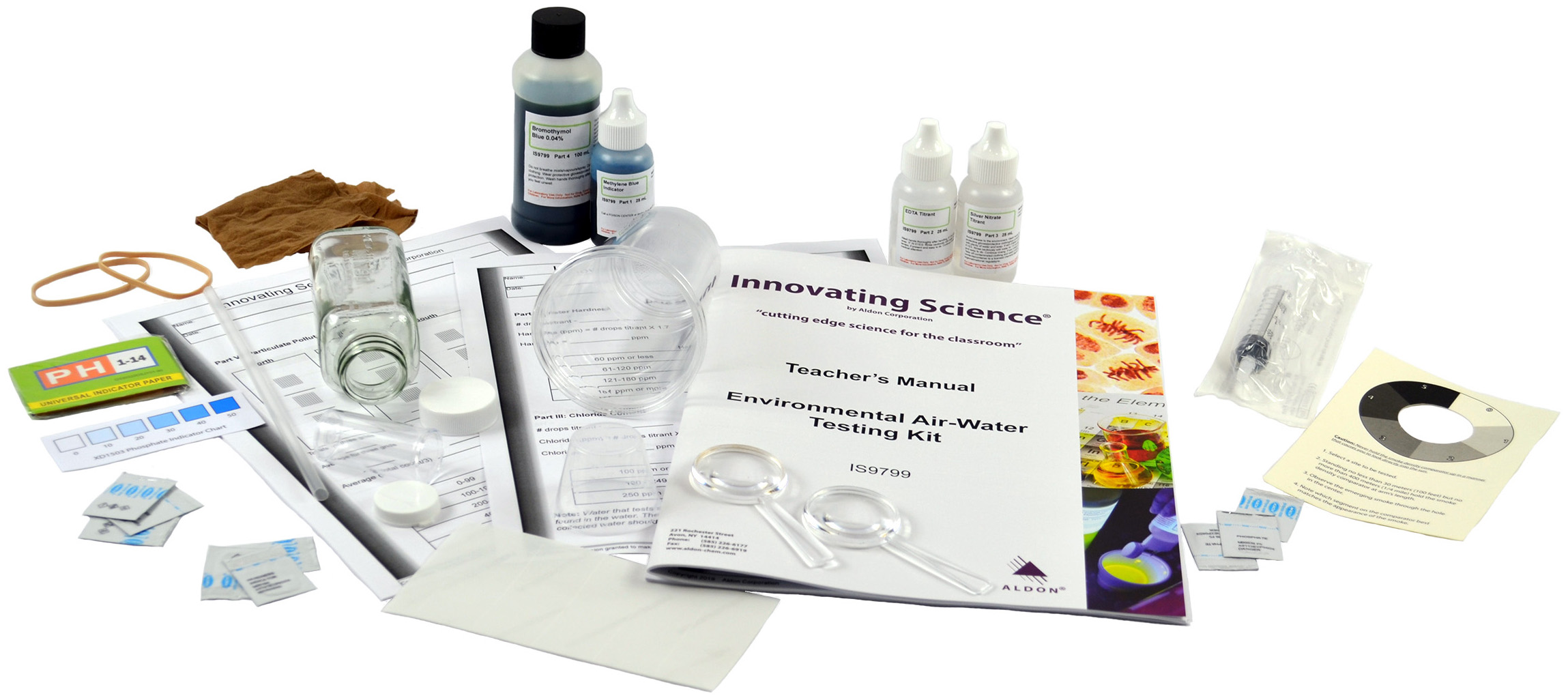 Product # IS9799
Learn how environmental scientists study pollution by testing air and water samples from your local area! This kit includes nine different tests to determine the air and water quality of samples you collect from your community. Investigate your water quality by testing for dissolved oxygen levels, water hardness, pH, and phosphate and chloride content. Then, test for particulate and chemical pollutants in the air, measure smoke density, and learn how excess carbon dioxide in air can affect your environment. Teacher's Manual and Student Worksheets included. There are enough materials for a class of 30 working in groups.
Aligned to the Next Generation Science Standards (NGSS)*Disciplinary Core Ideas:
ESS3.A; ESS3.C
Performance Expectations:
4-ESS3-1; MS-ESS3-3; HS-ESS3-4
Cross Cutting Concepts:
Cause and Effect; Interdependence of Science, Engineering, and Technology; Influence of Science, Engineering, and Technology on Society and the Natural World; Influence of Engineering, Technology, and Science on Society and the Natural World
Engineering Practices:
Obtaining, Evaluating, and Communicating Information; Constructing Explanations and Designing Solutions
Kit Includes:
25mL Methylene Blue, 0.1%
25mL EDTA Solution, 0.015M
25mL Silver Nitrate, 0.014M
100mL Bromothymol Blue, 0.04%
3 Hardness Powder Pillows
3 Phosphate Powder Pillows
3 Chloride Powder Pillows
1 Glass Bottle, 4oz with Cap
1 pkg pH Strips
1 Plastic Vial with Cap
1 Medicine Cup
2 Cups, 10oz
2 Magnifiers
4 Clear Labels
1 Nylon Fabric
2 Rubber Bands
1 Smoke Density Comparator
1 Phosphate Indicator
1 Syringe
DOT Info:
Small quantity exemption 173.3
THIS PACKAGE CONFORMS TO 49 CFR 173.4 for domestic highway or rail transport only
*"Next Generation Science Standards" is a registered trademark of Achieve. Neither Achieve nor the lead states and partners that developed the Next Generation Science Standards was involved in the production of, and does not endorse, this product.
WARNING:
This product can expose you to chemicals including Chromium, hexavalent compounds, which are known to the State of California to cause cancer and reproductive harm. For more information go to
http://www.P65Warnings.ca.gov.
Innovating Science® products are For Laboratory Use Only
Safety Data Sheet
---
Contact Aldon - Innovating Science®