Quick Search
Innovating Science® -

Electric Art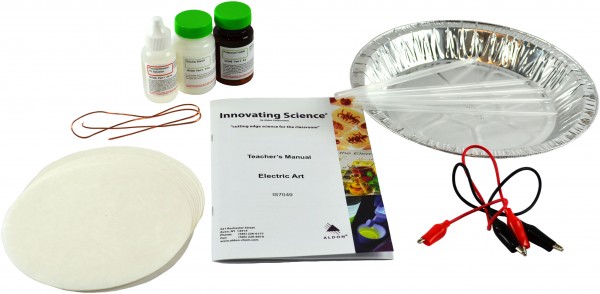 Product # IS7049
A copper "pen" will be used to electrolyze a solution of potassium iodide and draw on a piece of filter paper. The color of the "ink" will change depending on whether the copper is acting as the cathode or the anode in the electrolytic cell. There are enough materials to complete the demonstration 5 times.
Aligned to the Next Generation Science Standards (NGSS)*Disciplinary Core Ideas:
PS1.A; PS1.B
Performance Expectations:
MS-PS1-2; HS-PS1-2
Cross Cutting Concepts:
Patterns
Engineering Practices:
Analyzing and Interpreting Data; Constructing Explanations and Designing Solutions
Kit Includes:
25 mL Phenolphthalein, 1% Solution
8 g Potassium Iodide
2.5 g Soluble Starch
1 Copper Wire
1 Aluminum Pan
1 Red connecting Wire
1 Black connecting Wire
10 Filter Paper Pieces
5 Plastic Straws
DOT Info:
Small quantity exemption 173.4
THIS PACKAGE CONFORMS TO 49 CFR 173.4 for domestic highway or rail transport only
*"Next Generation Science Standards" is a registered trademark of Achieve. Neither Achieve nor the lead states and partners that developed the Next Generation Science Standards was involved in the production of, and does not endorse, this product.
WARNING:
This product can expose you to chemicals including Phenolphthalein and Phthalates, which are known to the State of California to cause cancer and reproductive harm. For more information go to
http://www.P65Warnings.ca.gov
.
Innovating Science® products are For Laboratory Use Only
Safety Data Sheet
---
Contact Aldon - Innovating Science®