Quick Search
Innovating Science® -

Determination of Dissolved Carbon Dioxide Concentration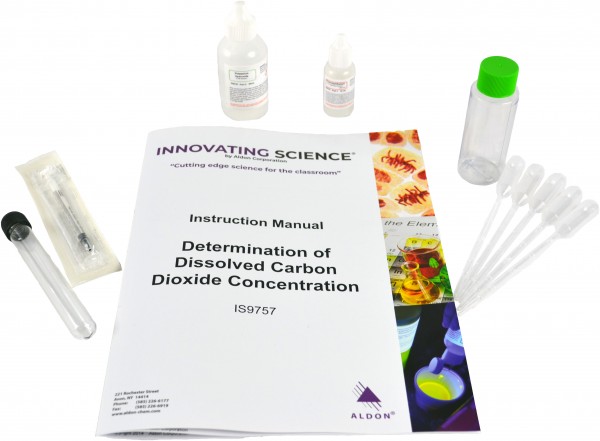 Product # IS9757
The proper amount of dissolved carbon dioxide in water is critical
for maintaining a healthy aquatic ecosystem. All aquatic life has an impact on
and is in turn impacted by the dissolved carbon dioxide concentration in a system,
so tracking the concentration and changes in concentration can help scientists
to better understand the health of an aquatic system and the organisms that
exist within it. Kit contains enough materials to perform 40 tests.

Aligned to the Next Generation Science Standards (NGSS)*
Disciplinary Core Ideas: PS1.A; PS1.B
Performance Expectations: MS-PS1-2
Cross Cutting Concepts: Structure and Function
Engineering Practices: Developing and Using Models

Kit Contents:
3 Plastic Pipettes
3 Reaction Vessel
3 Collection Bottle
1 Measuring Tube
1 Titrator
15mL Phenolphthalein Indicator
50mL Potassium Hydroxide Reagent


*"Next Generation Science Standards" is a registered trademark of Achieve. Neither Achieve nor the lead states and partners that developed the Next Generation Science Standards was involved in the production of, and does not endorse, this product.


WARNING: This product can expose you to chemicals including phenolphthalein, which is known to the State of California to cause cancer. For more information go to http://www.P65Warnings.ca.gov.
Innovating Science® products are For Laboratory Use Only
Safety Data Sheet
---
Contact Aldon - Innovating Science®