Quick Search
Innovating Science® -

Acids and Bases AP Chemistry Kit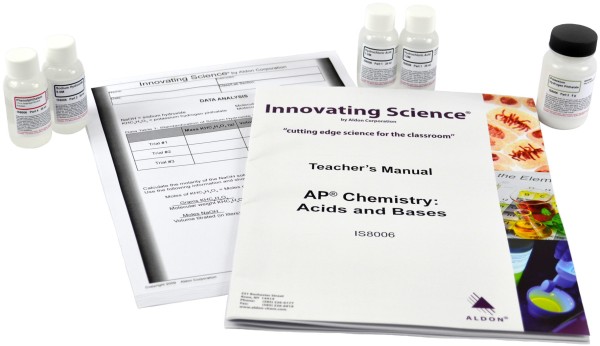 Product # IS8006
A solution of sodium hydroxide which is approximately 0.01M will be standardized with a solid acid, potassium hydrogen phthalate, to determine the exact molarity of the base. The standardized base will then be titrated against a monoprotic unknown acid to determine the molarity of the acid. A pH indicator and/or a pH meter will be used to determine the equivalence point.
Kit Includes:
2 X 25mL Hydrochloric Acid, 1.0M
1 X 30mL Sodium Hydroxide, 6.0M
1 X 5g Potassium Hydrogen Phthalate
1 X 25mL Phenolphthalein, 0.1%
DOT Info:
Small quantity exemption 173.4
THIS PACKAGE CONFORMS TO 49 CFR 173.4 for domestic highway or rail transport only
WARNING: This product can expose you to chemicals including Phenolphthalein, which is known to the State of California to cause cancer. For more information go to http://www.P65Warnings.ca.gov.
Safety Data Sheet
---
Contact Aldon - Innovating Science®